Electrical wiring, control systems and fluid engineering software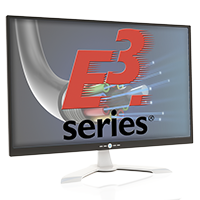 E3.series is a Windows-based, scalable, easy-to-learn system for the design of wiring and control systems, hydraulics and pneumatics. The out-of-the-box solution includes schematic (for circuit and fluid diagrams), cable (for advanced electrical and fluid design), panel (for cabinet and panel layout), and formboard (for 1:1 wiring harness manufacturing drawings). Integrated with MCAD, E3.series is a complete design engineering solution from concept through physical realization and manufacturing output.
Test drive E3.series for free!
NO software installation or licenses to worry about
Easy remote desktop login – be up and running in minutes
Step by step harness design tutorial takes ~ 4 hours
Access to dedicated technical support
E3.Viewer (Free) – E3.view is the free-of-charge viewer for E3.series.
E3.Viewer allows you to distribute E3.series projects as original data. This ensures accurate exchange of data with production, service, suppliers and customers, while providing powerful E3.series functionality, e.g. Search, Jump, Device Properties.